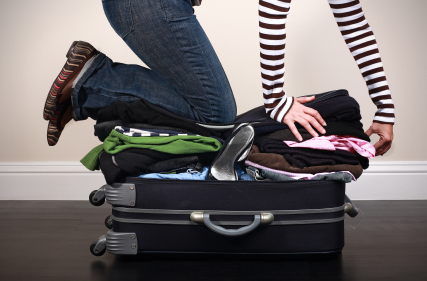 Everyone wants to travel far, especially to new and interesting places. Most of the time however, to travel far means to bring a big bag huge enough to carry a lot of stuff. And, to bring a lot of stuff means clutter upon arriving in your destination. Certainly, seeing things cluttered all over your hotel room makes your trip a headache instead of a stress-reliever. Whether you are someone who is so organized or someone who just want to avoid stress in the form of messy things, you need to have the new ShelfPack with you when travelling. Here's why:
Portable
ShelfPack measures 14'' x 18'' x 26''. When its shelves are raised, it becomes 42'' tall. It only weighs 17 lbs. or 7.71 kilograms. It has easy-glide ball-bearing wheels which make travelling a lot more convenient.      
Efficient
Even when the main compartment is closed, you can still place a lot of things in the outer pockets of the luggage. This bag has three spacious outer pocket compartments where you can place your hand towels, toiletries, slippers, etc.
Organized
If you want to be organized from the day you arrive in your destination until the day you leave, then follow these three easy steps:
Lay the bag down and unzip it.
Properly raise the supports.
Lift the shelves.
Award-Winning
Ken McKaba, the mind behind ShelfPack, is a newbie when he attended the 2015 Travel Goods Show in Las Vegas. To his surprise, his invention won the 'Buzz' award for the Best New Product of the Year. The fact that this product was recognized although there were hundreds of other products from more established brands is a proof ShelfPack is a worthy investment.
Warranty
As long as ShelfPackTM is still covered by warranty, then the company will repair and/or replace defective materials. However, just like other products, normal wear and tear and abuse are not included.
For the record, ShelfPackTM is not only recommended for travelling. It is also ideal for home storage.
Happy Globetrotting!
---